Csvtax drupal module
A Drupal 7 module that converts CSV files into sophisticated hierarchical taxonomies with the simplest user interface.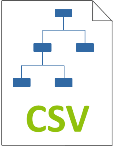 Installation
Install the module.
In the modules configuration page admin/config/csvtax add the taxonomy name that you'd like to create and upload the csv file.
Submit, and let the module take care of creating the taxonomy for you including all the hierarchies.
License
The MIT License (MIT)